Turn your impact reporting into a powerhouse for change.
Finding the right angle, wording, and visuals could mean the difference between a dull report and a tool to engage your audience.
Why not harvest multiple benefits of creating your impact report that requires so much energy anyway?
Don't let your report get covered with dust. Bring it to life instead and make it work for you!
Areas to uncover here:
Turning numbers into stories
The journey from sharing information to engaging your audience
Building a campaign instead of publishing a single report
Balancing data, content, visuals
Let the world know your impact - amplifying your message
This training provides you with practical, hands-on knowledge of how to make the most out of the whole process of designing, publishing and sharing your impact report.
Our skilled experts can work with your organisation directly, or you can join an open course with a limited number of attendees to learn in an inspiring environment. For personalised options get in touch >>
Get ready to roll up your sleeves and make your impact report become a force to drive change!
Open course
Impact report writing and publishing
Deep dive into writing and designing an Impact Report to help you share your achievements, inspire your community and engage donors, partners and other stakeholders.
Duration: 2x4 hours
Format: Interactive live online sessions, small group (case studies, presentation, practice, group discussions)
Fee: €380 (plus VAT)
Status: Open for application
Available dates - 2023:
All times are in WET Time Zone (Hosted from Ireland)
Course 1

1st Session: 9th November, Thursday, 9.30.-13.30
2nd Session: 16th November, Thursday, 9.30.-13.30
More dates will be available. For updates, sign up for the newsletter.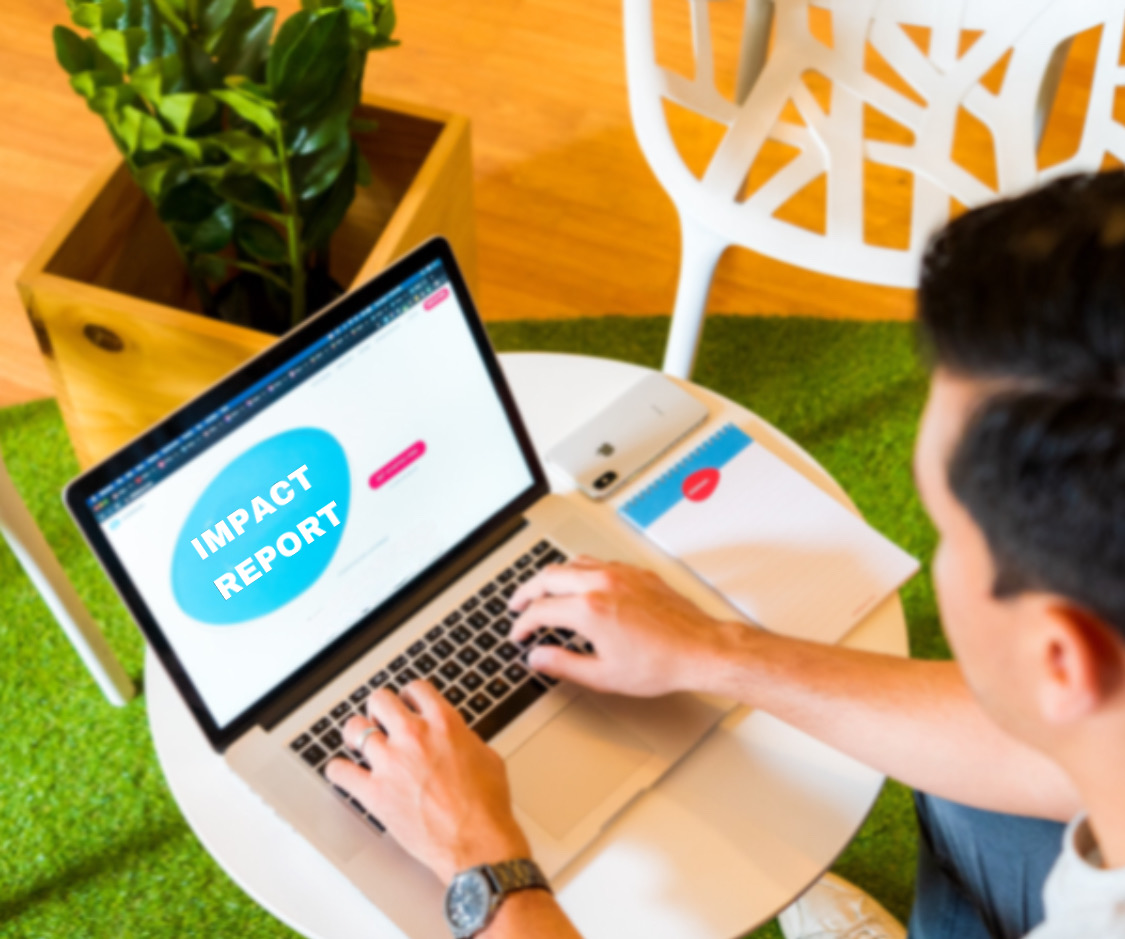 Course Overview
This intense, hands-on workshop aims to provide the essential ingredients to write and design an engaging format for communicating your impact in a report format.
What will you learn?
Find the best narrative to tell your impact
Present your data in a meaningful way
Explore case studies with success and failure factors
Outline a communication strategy for using your Impact Report
Take away a toolkit that you can keep using
Work on your report with the support of your peers and expert trainers
By the end of the course, you will gain confidence and improve your writing and editing skills to create an eye-catching communication tool and use it for good.
Who can benefit from this course?
The course is designed for impact organisations and start-ups or scale-ups reporting on their environmental and social impact.
Entry requirements
You need to represent an impact organisation or be involved with sustainability or social projects.
Fluent in written and spoken English.
Certificate
Upon completion of this course, after submitting all the assignments and participating in at least 70% of the online sessions, you will be awarded an official Impact Writing Institute certificate.
Application to the media toolkit crash course
Sessions are always held with a limited number of attendees to ensure plenty of space for learning and practising. Therefore places are allocated on a first-come, first-served basis.
Please fill out the form below to start your application process.